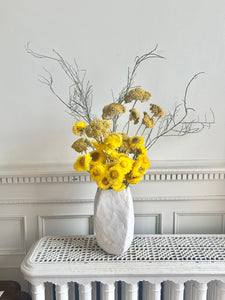 A beautiful custom-made dried floral arrangement created just for you under the choice of botanicals by our Founder, Rebecca O'Donnell. 
Arranged in a handmade Signe Vase by Sarah Donato is a Brooklyn-based ceramicist.
An email will be sent through to get specifics on preferences and areas where the arrangements will be displayed.
Please note each flower bouquet is unique and will vary from the image and will be at the designer's choice.
How to care for dried flowers:

Bouquets last up to three years and are very easy to take care of
Do not place in direct sunlight or anywhere where there is too much humidity
To clean use a hairdryer on low speed or take outside and shake down gently