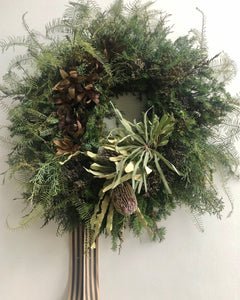 A beautiful wild wreath that can be displayed all year round.
Please note each wreath is made to order and takes one week.
Please note each bouquet is unique and may vary slightly from the image.
Approximate size 25" x 25"
How to care for dried flowers
Bouquets last up to three years and are very easy to take care of.
Do not place in direct sunlight or anywhere where there is too much humidity.
To clean use a hairdryer on low speed or take outside and shake down gently.